Mayor:  Elizabeth (Betty) A. Korts  (Finance)
Alderpersons:
Barbara Quarles  (Mayor Pro Tem, Water)
Charlie Burks  (Environment)
Molly Quirk  (Public Affairs)
Tillie Trotter  (Roads)
Elaine Voeltz  (Public Safety)
Village Administrator/Water Service:  Kathleen Lessing  (512)280-3898
Zoning Chairperson:  Mark Schumacher  (512)280-3898
Water Operator:  Byron Townsend – Emergency # 1(512)295-2583
Arborist:  Dane Avery  (512)913-3442
Board of Aldermen/Council meetings are held on the third Thursday of each month at 7:00 pm at the Community Center, located at 11906 Sleepy Hollow.  Agendas are posted on community bulletin boards and on this site prior to each meeting.
Village Phone/Fax:    (512)280-3898
Village Address:
Village of San Leanna
P.O. Box 1107
Manchaca, Texas 78652
The Village Community Center is available to rent for special occasions, meetings, and events.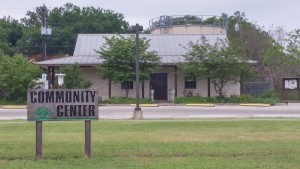 Rental Rates:                   ½ Day (less than 6 hrs)    Full Day (6 or more hrs)     Security Deposit
Non-profit/ Government               $25.00                              $50.00                            $100.00
Professional                                       $75.00                              $150.00                           $100.00
Parties/Social Gatherings            $100.00                            $200.00                           $200.00
View or Print PDF Rental Form by clicking here
or email Molly Quirk at sanleanna2@yahoo.com for more information.